Public Health Director urges continuous commitment to precautionary measures to end pandemic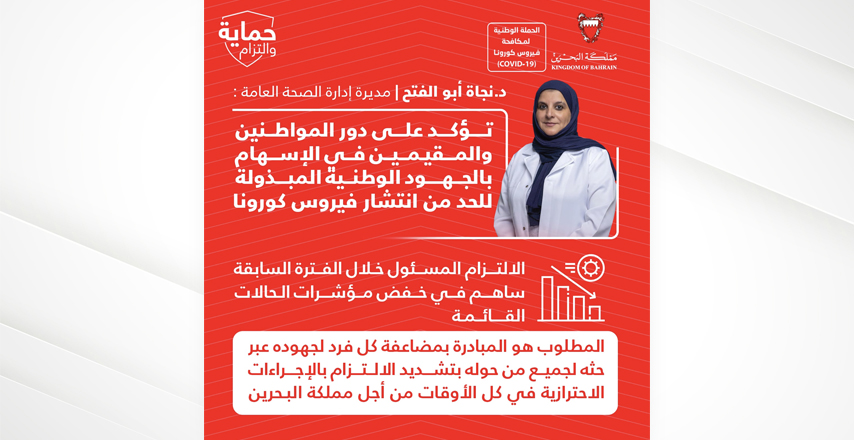 20 Jun 2021
Public Health Director, Dr. Najat Abu Al-Fateh, has affirmed the important role played by the citizens and residents in supporting the national efforts to curb the spread of the novel Coronavirus, praising their responsible commitment during the past period, which contributed to reducing the number of active cases.

Dr. Abu Al-Fateh called upon everyone to continue supporting the tremendous efforts exerted by the National Medical Taskforce for Combating Coronavirus and the medical and nursing staff to ensure the success of the fight against the pandemic, urging concerted and collective efforts by everyone to achieve the forecast goals.

She called for the need to continue commitment to the precautionary measures, including social distancing, wearing face masks, using sanitisers and washing hands regularly.

She stressed that family gatherings should be restricted to the members living in the same house, calling for the need to avoid going out, unless necessary.

She also affirmed that full compliance with the recommendations of the competent authorities is the best means to reduce infections and protect public health and safety.

She extended thanks and gratitude to individuals who play their role in protecting themselves, their community and their country's gains, emphasising that cooperation among the health authorities, the citizens and residents is the best means to eliminate the pandemic.
---
Recent News