12-17 year olds urged to take vaccine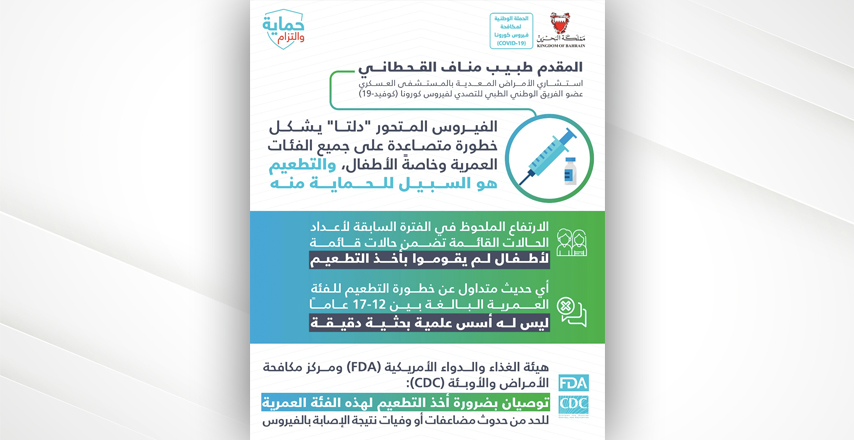 16 Jun 2021
Infectious Disease Consultant and Microbiologist at the BDF Hospital and member of the National Medical Taskforce for Combating the Coronavirus (COVID-19), Lieutenant-Colonel Dr. Manaf Al Qahtani, has stressed the importance of taking vaccines at this important stage of dealing with the virus in order to get protected against its complications and new mutations.
He indicated that the Covid Delta variant poses an increasing danger to all age groups, especially children, noting that the vaccination is the best way to protect against it as this will increase the number of antibodies, strengthen children's immune system and provide them with the necessary protection from the virus.
Dr. Al-Qahtani explained that the remarkable spike in the number of active cases over the past period included active cases of unvaccinated children, calling on parents of citizens and residents to register their children aged between 12 and 17 for the vaccine.
He added that this age group represents a large segment of society, and their vaccination contributes to enhancing their immunity and that of the community, especially in light of the long incubation period of the virus in infected children.

He pointed out that contrary to what some people say, the vaccine is not dangerous to the 12-17 age group, adding that the Food and Drug Administration (FDA) and the Centres for Disease Control and Prevention (CDC) strongly recommended this age group to take the vaccine to reduce complications or deaths as a result of infection with the virus.
He called on everyone to continue to adhere to the precautionary measures and instructions issued by the competent authorities to limit the spread of the virus.
---
Recent News