Health Minister inaugurates active COVID-19 cases' treatment clinic at Al-Shamil Medical Centre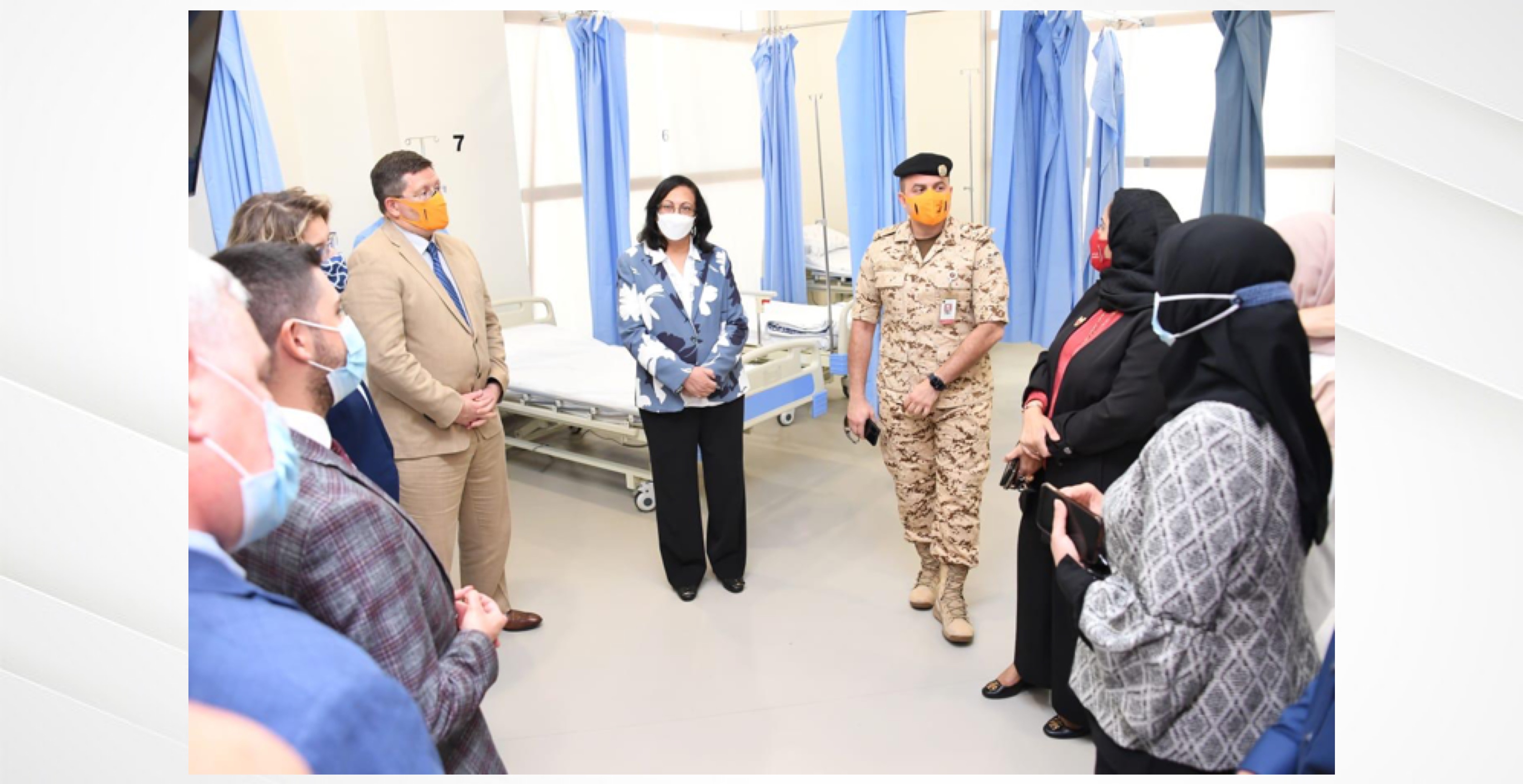 21 Jun 2021
Health Minister, Faeqa bint Said Al-Saleh, today inaugurated the first specialised clinic at the Al-Shamil Medical Centre to implement the new treatment protocol for active COVID-19 cases, using "Sotrovimab" and drugs that develop monoclonal antibodies, as part of the kingdom's continuous efforts to combat the novel Coronavirus.
During the inauguration, attended by the British Ambassador Bahrain, Roddy Drummond, health sector's officials and a delegation from the GlaxoSmithKline (GSK) company, the minister affirmed the government's keenness to deliver the best and latest approved treatment for infected persons, as well as to protect them from the COVID-19's dangerous health repercussions.
She pointed out that the challenges created by the pandemic require more efforts to confront it, especially regarding ways to consolidate the health security of societies, stressing that the kingdom will continue adopting pioneering initiatives and exerting all efforts to combat the virus.
The minister also said that the visiting delegation from GSK will be informed closely about Bahrain's experience, as well as train the medical staff on the guiding principles on using the right medicine and implementing the protocol of the new drug to achieve efficacy and maximum benefits.
Sotrovimab is dispensed to infected persons via the intravenous line (IV), under the medical supervision of government hospitals, and will not be available for sale in pharmacies or private hospitals.
It is to be noted that Bahrain's National Health Regulatory Authority (NHRA) has approved "Sotrofimab" for emergency use, a new drug by GlaxoSmithKline (GSK) for the treatment of COVID-19.
The decision to add "Sotrovimab" to COVID-19 treatment protocols follows emergency use approval by the US Food and Drug Administration (FDA) as well a comprehensive review of GSK's clinical trials.
"Sotrovimab-VIR-7831" develops "monoclonal antibodies" and is used to treat infected adults and adolescents with mild to moderate COVID-19 symptoms who are at risk of their condition deteriorating and resulting in hospitalisation.
---
Recent News