The Kingdom of Bahrain allows vaccination for adolescents aged 12 to 17, and a booster dose for those over fifty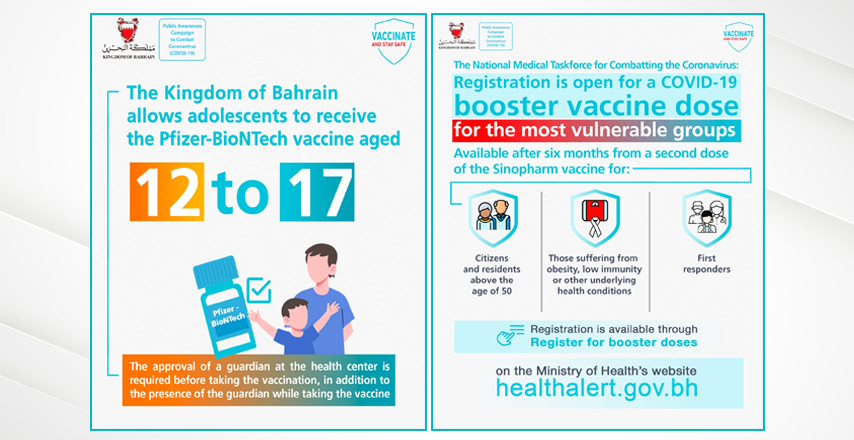 18 May 2021
The National Medical Taskforce for Combatting the Coronavirus (COVID-19) today announced that members of the Ministry of Health's Vaccination Committee have agreed to the vaccination of adolescents aged 12 to 17, with two doses of the Pfizer-BioNTech vaccine.
The decision was made after the Committee studied all the recommendations issued by the World Health Organization's Strategic Advisory Group of Experts on Immunization, and the United States of America's Center for Disease Control, to ensure adolescents strengthen their immunity against the virus.
The Taskforce noted that the opening of the vaccination registration for adolescents on healthalert.gov.bh will be announced soon, adding that an approval from a guardian is needed when visiting the health centres, in addition to the presence of a guardian when taking the vaccine.
Furthermore, the Taskforce also announced the opening of registration for a booster COVID-19 vaccine dose for the most vulnerable groups in Bahrain, at least 6 months after taking the second dose of the Sinopharm vaccine, for first responders, as well as citizens and residents above the age of 50, as well as those suffering from obesity, low immunity, or other underlying health conditions.
The Taskforce indicated that registration for the booster dose will be available through the Ministry of Health's website, healthalert.gov.bh, by clicking on "Register for booster doses" within the registration option.
The Taskforce affirmed its commitment to further develop the Kingdom's vaccination protocols in accordance with international medical protocols, and that providing booster shots is part of the proactive steps taken by the Kingdom of Bahrain in efforts to combat COVID-19 and contribute to safeguarding the health of the community.
The Taskforce emphasised that the opening of registration for taking the booster shot for the rest of citizens and residents will be announced at a later stage, as the date for the booster shot will be 12 months after taking the second dose to ensure the maximum benefit possible.
The Taskforce concluded by noting the procedures for arrivals from India, Pakistan, Bangladesh, Nepal, and Sri Lanka to the Kingdom of Bahrain, including transit travellers aged 6 and above. Travelers arriving from the aforementioned countries must present a negative PCR test result certificate containing a QR code, no later than 48 hours before the departure time. The Taskforce added that they also must conduct a PCR test upon arrival, a second PCR test for those who will stay in Bahrain for a period of more than 5 days, and a third PCR test ten days after the date of arrival, for arrivals who will stay in Bahrain for a period of more than 10 days.
In addition, passengers arriving to Bahrain from the aforementioned countries should also quarantine in their own residences, or at one of the hotels designated for precautionary quarantine licensed by the National Health Regulatory Authority for a period of ten days.
---