The National Medical Taskforce for Combating the Coronavirus (COVID-19) provides update on the Kingdom's COVID-19 response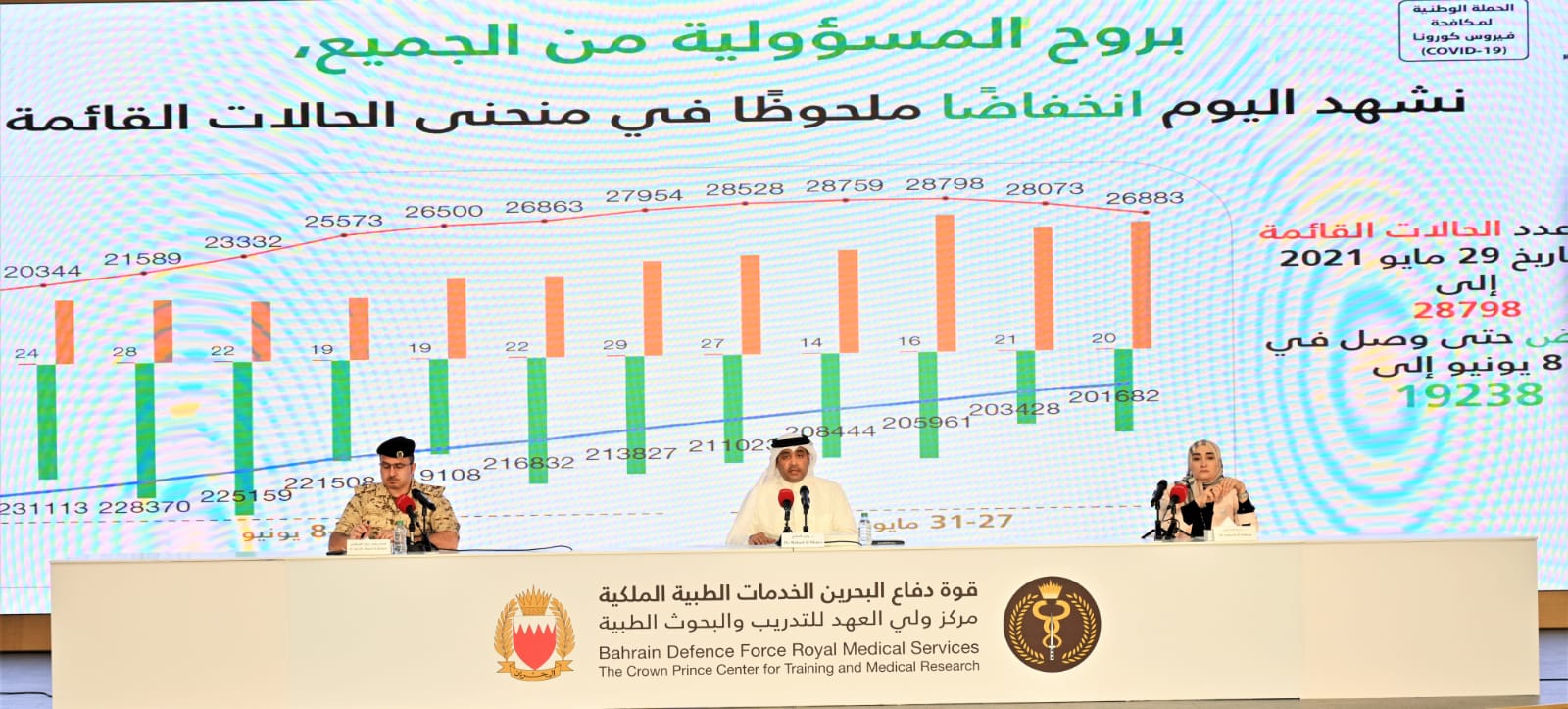 09 Jun 2021
The National Medical Taskforce for Combating the Coronavirus (COVID-19) today held a press conference to provide an update on the Kingdom's COVID-19 response, at the Crown Prince Centre for Training and Medical Research, Bahrain Defence Force Hospital.
The Taskforce highlighted that the decisions announced on 27 May 2021, have proved to be effective in supporting mitigation efforts and reducing the infection curve, noting that on 29 May there were a total of 28,798 cases, and by 8 June the number of cases had decreased to 19,238.
The Taskforce outlined that after 25 June, and based on the latest medical data, various sectors will be gradually reopened, in compliance with necessary precautionary measures. In this regard, the Taskforce further noted the importance of continuing to follow all preventative measures until the virus is no longer a risk.
The Undersecretary at the Ministry of Health and Member of the National Medical Taskforce for Combating the Coronavirus (COVID-19), HE Dr. Waleed Khalifa Al Manea, highlighted the Ministry of Health and Ministry of Foreign Affairs's efforts to swiftly implement His Majesty King Hamad bin Isa Al Khalifa's Royal Directives to vaccinate citizens living overseas. In this regard, HE Dr. Al Manea emphasised efforts to coordinate with Bahraini embassies abroad, to register citizens and obtain the necessary regulatory approvals to ensure a smooth vaccination process.
On the treatment of home isolation patients, HE Dr. Al Manea indicated that starting today, existing cases subject to home isolation, and in need medical care, may attend without appointment the new medical center at the Bahrain International Exhibition and Convention Center.
For his part, the Infectious Disease Consultant & Microbiologist at the BDF Hospital and member of the National Medical Taskforce for Combating the Coronavirus (COVID-19), Lt. Col. Dr. Manaf Al Qahtani, highlighted the Kingdom's success in both its "trace, test and treat" strategy and vaccination campaign. In this regard, Dr. Al Qahtani noted the importance of receiving a booster shot when required, as every vaccination has a finite period of effectiveness.
Dr. Al Qahtani pointed out that those who are vaccinated with the Sinopharm vaccine, can choose from two options for their booster dose, either a booster of Sinopharm or of Pfizer-BioNTech. Dr. Al Qahtani noted that all other vaccines will eventually require a booster dose, with timings to be announced at a future date, adding that the Kingdom is in contact with all approved suppliers to ensure the availability of shots as required.
Highlighting the effectiveness of all vaccines, Dr. Al Qahtani noted that the percentage of vaccinated people with active COVID-19 is very small, ranging from 1% to 2%. Dr. Al Qahtani explained that individuals who have received a Sinopharm vaccine, and are considered high-risk, will be eligible for a booster dose after 3 months from receiving their second dose. A 6 month interval will apply to all those not considered high risk.
Dr. Al Qahtani further noted that individuals who have recovered from COVID-19 in 2020, and who have received two doses of the Sinopharm vaccine, are eligible for a booster dose 3 months from recovery. Those recovering in 2021, who have received two vaccination doses, do not require a booster dose. Dr. Al Qahtani stressed the importance of everyone registering for a vaccination to support mitigation efforts and the eradication of the virus.
The Consultant of Infectious and Internal Diseases at Salmaniya Medical Complex and member of the National Medical Taskforce for Combating the Coronavirus (COVID-19), Dr. Jameela Al Salman, highlighted that the Kingdom's death rate remains one of the lowest in the world.
On vaccination efforts, Dr. Al Salman noted that Bahrain has surpassed the one million mark of first dose vaccinations, adding that from December 2020 to April 2021 half a million citizens and residents were vaccinated with a first dose, and with an increase in frequency of vaccinations since April, the Kingdom has exceeded one million doses.
Dr. Al Salman emphasised the importance of those eligible for a booster dose to take the initiative and register, highlighting that 19% of those eligible for vaccination have yet to register. Dr. Al Salman further emphasised the importance of being punctual when attending a vaccination appointment, to ensure the Kingdom's pace of vaccination continues to run smoothly.
Dr. Al Salman highlighted that the 12-17 age group represents a large proportion of society and is one that incubates the virus for a longer period than adults, potentially increasing transmission rates to parents and the elderly. To safeguard the health of all, it is important to for parents to ensure that children between 12-17 are vaccinated. Dr. Al Salman underlined the importance of ignoring unscientific vaccination content, on social media and other platforms, adding that children receive several vaccinations as toddlers with no negative side effects.
The Taskforce concluded by answering questions from citizens and residents taken from emails, social media outlets and other platforms.
---