Speaker receives WHO Director-General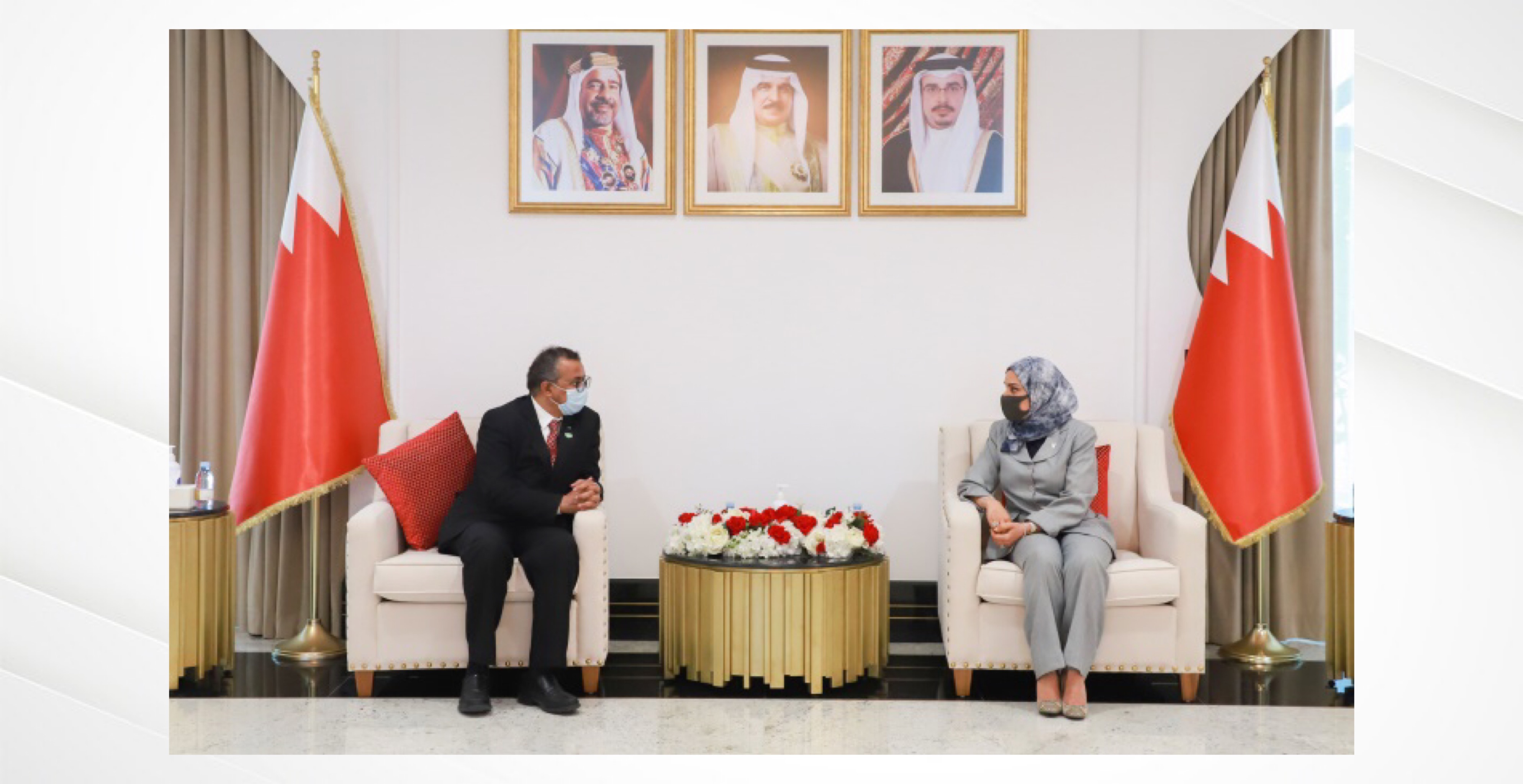 26 Jul 2021
Speaker of the Council of Representatives, Fawzia bint Abdulla Zainal, today received the Director-General of the World Health Organisation (WHO), Dr. Tedros Adhanom Ghebreyesus, as part of his official visit to Bahrain.

The Speaker affirmed that Bahrain's pioneering professional and humanitarian dealing with the Coronavirus pandemic is the outcome of His Majesty King Hamad bin Isa Al Khalifa's directives, and the national efforts exerted by Team Bahrain, led by His Royal Highness Prince Salman bin Hamad Al Khalifa, the Crown Prince and Prime Minister, which are based on a comprehensive and integrated approach that has strengthened societal awareness and collective action.

She highlighted the effective role played by the Legislative Branch and all state departments in supporting the efforts of Team Bahrain, noting that cooperation between the Representatives Council and the government in approving a legislative system that coped with the developments of the pandemic has contributed to overcoming its challenges and mitigating its impacts on the citizens and residents.

She added that Bahrain has dealt with the pandemic according to an approach based on "protecting humans and human solidarity", achieving a great success story thanks to its keenness to harness all its potentials to support the successful efforts of the National Medical Taskforce for Combating Coronavirus.

The Representatives Council Speaker expressed sincere thanks and appreciation to WHO Director-General for his praise of Bahrain's efforts and pioneering endeavours in responding to the pandemic, through the implementation of the appropriate precautionary measures since the detection of the first case in the kingdom, in line with WHO recommendations.

Zainal also informed WHO chief about the legislative efforts that have contributed to supporting the integrated health system in the kingdom, in addition to the precautionary measures implemented by the Representatives Council and its Secretariat-General to ensure the continuity of parliamentary work, citing the digital transformation and holding sessions remotely, earning Bahrain the acclaim of the International Parliamentary Union and other parliaments.

WHO Director-General lauded the role played by the Representatives Council in Bahrain's pioneering efforts exerted by the government, led by HRH Crown Prince and Prime Minister, to deal with the pandemic.

He also underlined the crucial role played by parliaments in supporting the efforts of peoples, societies and WHO to overcome all the challenges and diseases that pose a threat to the security, health and safety of the entire humanity.

The meeting was mainly attended by Health Minister, Faeqa bint Said Al-Saleh, Health Ministry's Undersecretary, Dr. Waleed Al-Manae, First Deputy Speaker, MP Salman Abdulnabi, and Second Deputy Speaker, MP Ali Ahmed Zayed.
---
Recent News