WHO Launches Case Study on Bahrain's successful COVID Response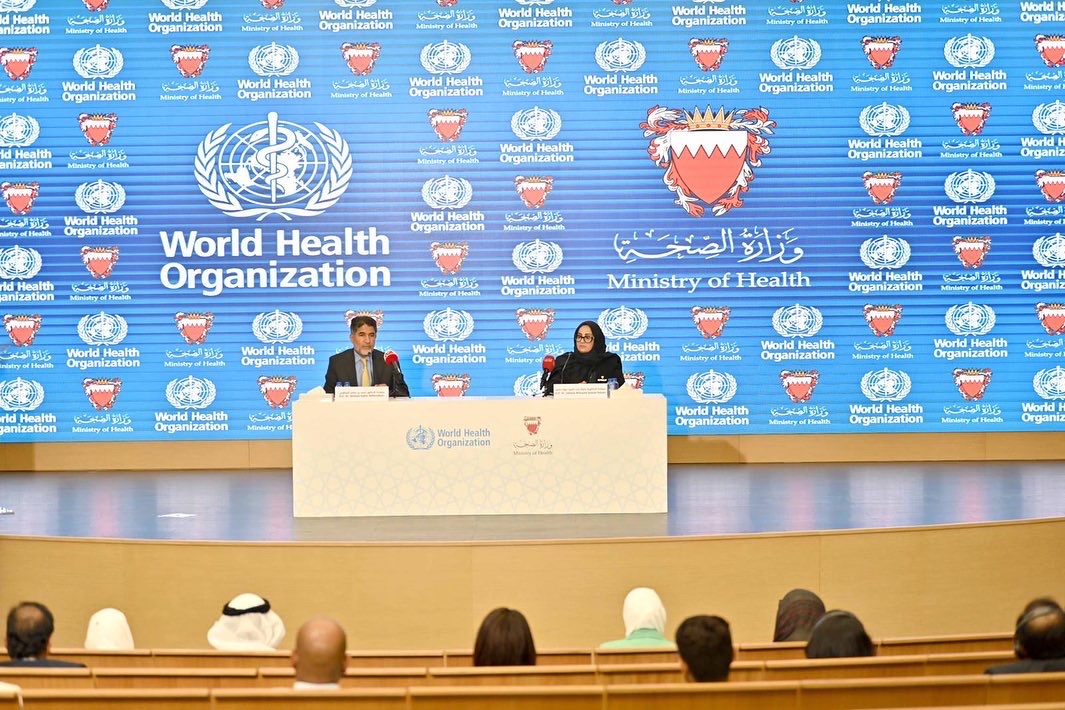 05 Jul 2022
The World Health Organisation (WHO) has launched a case study documenting the Kingdom of Bahrain's successful response to the COVID-19 pandemic. The study details Bahrain's wide-ranging efforts in combating the spread of the disease and highlights best practice examples and lessons learned from the pandemic.

The case study was launched during a joint press conference, at the Crown Prince Research Centre on Tuesday, which was held on the sidelines of the visit of the WHO Regional Director for the Eastern Mediterranean, Dr Ahmed Al-Mandhari.

During the press conference H.E. Dr Jaleela bint Al-Sayed Jawad Hasan, the Minister of Health, affirmed the Kingdom's pride in having its experience in combating COVID-19 documented by the WHO. She stressed that healthcare remains a priority for the Government of Bahrain, affirming that commitment at the highest political level was instrumental to the success of Bahrain's COVID-19 response under the leadership of His Majesty King Hamad bin Isa Al Khalifa and the constant follow-up of His Royal Highness Prince Salman bin Hamad Al Khalifa, the Crown Prince and Prime Minister.

The Minister expressed the Kingdom's commitment to continue its cooperation with the WHO to fight off the pandemic and achieve the global health goals.

She explained that before the first local case was reported, the Kingdom of Bahrain had put in place a National Taskforce for Combating COVID-19, along with a round-the-clock war room, featuring representatives of different sectors. This, on top, of a multilingual media campaign to spread awareness to the public.

The Minister highlighted the Kingdom's commitment to spearheading vaccine campaigns, making several vaccination options available, free of charge for all citizens and residents. She added the government has spared no effort in combatting the spread of the disease and the provision of the needed medical equipment and care as per the set international recommendations.

For his part, Dr Ahmed Al-Mandhari praised the high-level collaboration between the Kingdom of Bahrain and the WHO, through the new WHO Country Office in Bahrain. He affirmed that Bahrain's response to the COVID-19 pandemic proved to be very timely, comprehensive and successful, and the launched report will enable the Kingdom of Bahrain to share its operational strategy in containing the spread of the disease with the globe.

In a video message, Dr Tedros Adhanom Ghebreyesus, WHO Director-General, emphasised that Bahrain's success in containing the spread of the disease was the result of early testing, high vaccination coverage and the continued provision of essential health services. He expressed his hope that the lessons from Bahrain's experience will be useful for other countries in the Eastern Mediterranean Region.
---